Television viewers recently watched a powerful first live show of X Factor USA 2011 when a couple of talented singers remained in the show after the group of participants was reduced.
It was necessary for Simon Cowell to bid farewell to two out of "his" five girls when five singers were eliminated from this popular live show.  Drew Ryniewicz, a very talented 14 year old singer and Melanie Amaro, a wild card who was brought back at the last minute after she had been voted off, remained in the show.  Rachel Crow, a 13 year old favorite amongst the crowd, was also kept back.
Simon Cowell appears to have chosen well as Paddy Power Online Casino is offering odds on these two girls winning the competition outright.
The odds offered by Paddy Power Sportsbook as to who will be the X Factor 2011 outright winner is as follows:
Drew Ryniewicz - 2/1
Melanie Amaro - 3/1
Josh Krjcik - 9/2
Rachel Crow - 7/1
Marcus Canty - 10/1
Chris Rene - 12/1
Stacy Francis - 16/1
Brian Bradley - 20/1
LeRoy Bell - 20/1
The Stereo Hogz - 20/1
Lakoda Rayne - 25/1
InTENsity - 33/1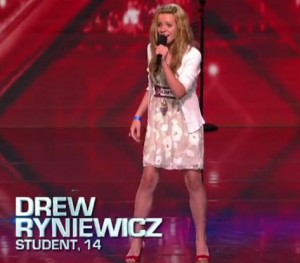 Despite the fact that Drew Ryniewicz appears to be the current X Factor USA 2011 favorite, there could be many changes in the coming weeks.